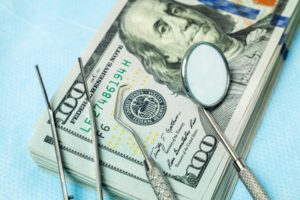 When it comes to replacing missing teeth, dental implants hold the gold standard. However, despite their unmatched comfort, functionality, and lifelike appearance, many people are hesitant to choose them because of their initial cost. While dental implants typically cost more than options like dentures and dental bridges, more than 3 million people have chosen to rebuild their smiles with this state-of-the-art treatment! So what makes them worth the price to so many people? Here are five reasons why dental implants in Plano are well worth the investment!
1.) Save Money in the Long Run
After a few years of use, dentures and dental bridges lose their fit, become less comfortable, and need to be replaced. Not only is this inconvenient, but it can become costly in the long run! On the other hand, dental implants are designed to be a permanent solution for missing teeth. The one-time dental implant investment can potentially last you a lifetime, which will end up saving you both time and money.
2.) Less Maintenance, Frustration, & Discomfort
A dental implant doesn't require any special pastes, cleaning tablets, or special routines to keep clean and beautiful. What's more, you'll never have to deal with the frustration, embarrassment, or discomfort of a restoration that feels loose or pops out of place. In fact, your dental implant may be so easy to use, reliable, and comfortable that you forget it's even there!
3.) Prevent Future Oral Health Issues
Dental implants are the healthiest tooth replacement option for your mouth. Dental bridges cause the neighboring healthy teeth to wear down and dentures often lead to gum irritation and jaw soreness. Both can leave your smile vulnerable to bacteria and infection over time. With dental implants, you can more easily keep oral health issues like tooth decay and gum disease at bay.
4.) Lower Your Risk of Systemic Health Conditions
Not only does a dental implant lower your risk of oral health issues and the expenses that come with treating them, but it can reduce the cost of overall health treatments as well. Studies show that those with an unhealthy mouth typically pay more for cardiovascular treatments and other health care services than those with great oral health.
5.) Regain Your Confident, Comfortable Smile
Perhaps one of the most important reasons dental implants are worth the investment is their impact on your quality of life. You simply can't put a price on the confidence you'll regain by replacing your missing tooth with a reliable, permanent restoration that looks beautiful. It won't bother or distract you as you go about your daily life, and you can continue to eat all your favorite meals easily and comfortably.
With so many long-term benefits, it's easy to see why dental implants are becoming one of the most popular tooth replacement options! To see if this life-changing treatment is right for you, call your Plano dentist today!
About the Author
Dr. Shannon Stokes has been serving the families of Plano, TX and the surrounding communities for nearly two decades. He is passionate about building personal relationships with his patients and counts it as a privilege to serve many multi-generational families. He has completed countless hours of continuing education in an array of advanced topics, including dental implants, to ensure he can provide the most effective and comfortable dental care. If you have more questions about dental implants, he'd be happy to answer them. Feel free to contact him via his website or at (972) 596-0200.