Full Mouth Reconstruction – Plano, TX
Making Your Entire Smile Healthy and Whole Again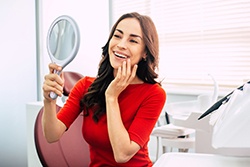 Do you have multiple oral health problems that you're not sure how to address? Is your entire mouth filled with damaged or decayed teeth that need to be restored? In these types of situations, it can be difficult to see how you can enjoy a healthy smile again. Fortunately, with a personalized full-mouth reconstruction plan carried out by Dr. Stokes and the rest of our team, it's more achievable than you might think! Call us to learn more about how full-mouth reconstruction at our dental practice in Plano works.
Why Choose Shannon Stokes, DDS for Full Mouth Reconstruction?
Crowns Made Out of High-Quality Materials
Full Range of Restorative Dental Services
Highly Trained, Experienced Dentist
Is Full Mouth Reconstruction Right for Me?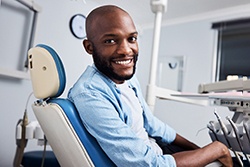 The full mouth reconstruction process is meant to help patients with complex dental health problems. It's often a good solution for anyone who:
Has an advanced form of gum disease.
Is missing multiple teeth.
Is suffering from extensive tooth decay.
Has multiple teeth that were chipped, cracked, or otherwise damaged in an accident.
These are just a few examples of situations that might call for a full mouth reconstruction. The best way to find out if the process is right for you is to call our office to schedule a consultation. If you are eligible for reconstruction, you can expect to see a lot of changes for the better in your mouth by the time the treatment's done, such as a stronger, better-functioning bite.
The Full Mouth Reconstruction Process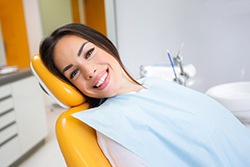 First, we'll talk to you about your oral health concerns and check your mouth to see what issues need to be dealt with. We'll encourage you to speak up about your expectations for the procedure and what your goals for your smile are.
Next, we'll design a treatment plan just for you. Said plan can include a variety of procedures depending on your needs. Fillings and crowns will likely be placed if you have any damaged teeth. We might suggest dental implants or another type of tooth replacement if any teeth have been lost. In some cases, cosmetic treatments might be suggested if you have any concerns specifically regarding the appearance of your smile.
A wax model of your teeth might be created to show you what the results of specific treatments will look like. This can help you narrow down which services are truly right for you before we carry out the reconstruction plan.
Understanding the Cost of a Full Mouth Reconstruction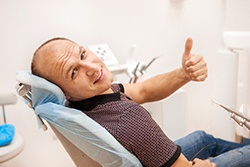 The cost of your full mouth reconstruction isn't something you can figure out just by doing a quick online search for prices. The procedures that make up the treatment plan are different for every patient, so it's only natural that the amount you pay will also vary. An estimate of the overall cost will be given at your initial consultation after we have determined what your dental needs are. Patients that are worried about having to pay for multiple procedures upfront might want to consider applying for a financing plan through CareCredit.