Implant-Retained Dentures – Plano, TX
Complete Your Smile with Dental Implants
Despite the latest innovations in dentistry, 35 million Americans have lost all their natural teeth in one or both arches. If you're among those who've experienced significant tooth loss, you've probably tried a traditional denture. Although there have been several improvements to their fit and look, they will always have their limitations. You aren't out of options. You can enjoy the next best thing to your real teeth with implant-retained dentures. Dr. Stokes will rebuild your smile using a solution that can last for decades!
How Do Implant-Retained Dentures Work?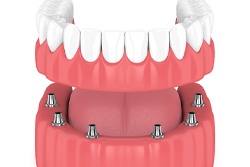 A traditional denture uses an acrylic base that's been carefully crafted from an impression of your mouth. Prosthetic teeth are held in the base which is attached to your gum tissue using suction or an adhesive. While they may have a bad reputation, dentures look and feel more realistic than ever. Unfortunately, you will always experience some slipping or irritation. Not to mention, they need to be replaced every 5 to 7 years.
An implant-retained denture resolves the disadvantages of the traditional method because they do more than just replace the crowns of your teeth. Dental implants are used to replicate the roots. An average of 4 to 8 implant posts are surgically placed into your jawbone. This stabilizes your denture while also providing a variety of benefits that aren't possible with a conventional prosthetic.
Am I a Candidate for Implant-Retained Dentures?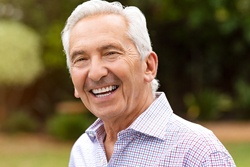 If you've lost all your teeth in one or both arches, you might be a candidate for dental implants if you're ready to enjoy an alternative to a traditional denture. Your implant dentist will perform a comprehensive consultation to assess your oral and general health. Besides a visual examination, you'll also need a CT scan to ensure your jawbone can support dental implants. In some cases, you might need additional procedures before your placement surgery, like periodontal therapy or bone grafting.
The Implant-Retained Dentures Procedure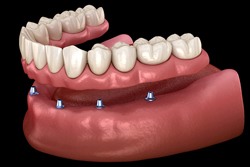 The process of rebuilding your smile with dental implants will take several months because there are multiple steps involved. Although it might take more time, it ensures your new smile has the foundation it needs to thrive.
After you've healed from any previous treatments, dental implants are surgically placed into your jawbone. You'll spend the next several months healing as your jaw fuses to the posts through a process called osseointegration.
Once you've healed, special fixtures called abutments are placed on each post. They will secure your new denture to your jaw, so you'll never need to worry about any slipping or irritation again.
Benefits of Combining Dentures & Dental Implants
With dental implants serving as new roots, you'll enjoy a variety of benefits, such as:
Over a 95% success rate to last for decades.
Regain 70% of your biting force.
Eliminates slipping and irritation.
Preserves your jawbone's density.
Supports your facial tissues.
Easy maintenance and care.
Cost-effective solution.
Complete Your Smile Today!
You can chew your favorite foods again with an implant-retained denture. Contact our office today to schedule your consultation for dental implants. We can secure your denture and give you a beautiful smile!