Porcelain Veneers – Plano, TX
Say Goodbye to Your Smile's Imperfections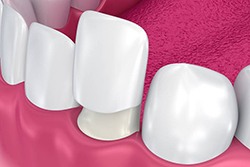 Do you cringe when you see yourself in photos and notice your chipped, discolored, or otherwise less than perfect teeth? You're not alone. Countless millions of people wish they could transform their smile and experience the confidence that comes with a stunning set of pearly whites. Porcelain veneers in Plano may be able to make it happen for you! If you are ready to bid farewell to your smile's flaws, contact Dr. Shannon Stokes today to schedule your cosmetic consultation.
What Kinds of Problems Can Porcelain Veneers Fix?
Porcelain veneers are custom-made, ultra-thin tooth covers that your cosmetic dentist in Plano permanently attaches to the fronts of your teeth. They're able to seamlessly disguise a number of aesthetic flaws, including: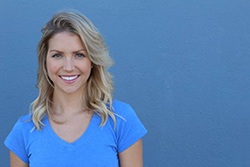 Discoloration
Chips and cracks
Teeth that are too short
Asymmetrical teeth
Small gaps between the teeth
Minor misalignment
Although porcelain veneers are usually applied just to the upper teeth, you may choose to have them placed on your lower teeth as well if you want to experience a truly complete smile transformation.
Why Are Porcelain Veneers the Right Choice?
Porcelain veneers are an outstanding cosmetic treatment because: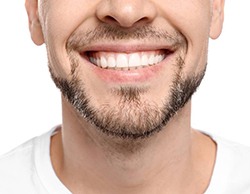 Most patients who are free of serious oral health concerns and who have an adequate amount of tooth enamel are good candidates for porcelain veneers.
We'll color-match your veneers to the surrounding teeth so they blend in seamlessly with your smile (you may choose to have your natural teeth professional whitened first). Also, since porcelain reflects light in a manner that is similar to that of real tooth enamel, no one may even suspect that your smile isn't totally natural.
Porcelain is resistant to stains — in fact, it resists stains even better than natural tooth enamel!
Veneers have the potential to last a very long time. With proper maintenance and regular checkups, they may retain their function and beauty for 15 years or longer. This is in stark contrast to cosmetic bonding, which may last for only a few years before it needs to be replaced.
Caring for veneers is easy. As long as you stick to good oral hygiene habits and take reasonable measures to protect the porcelain from breakage (for example, you should always wear a mouthguard while playing sports), it is unlikely that you'll encounter any problems with your veneers.
The procedure for placing veneers is minimally invasive and requires only slight tooth alteration.
What Is the Process for Placing Porcelain Veneers?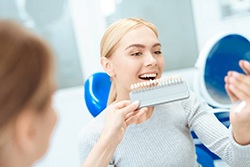 Usually, it takes just two appointments for our team to transform your look with porcelain veneers. During the first appointment, Dr. Stokes will prepare your teeth by removing a sliver of enamel from them; this step ensures that the veneers will fit in well with your natural smile line and won't feel bulky. Then, we'll take some detailed impression of your prepared teeth and give you temporary veneers to wear while a laboratory creates your permanent one.
During your second appointment, Dr. Stokes will make any necessary adjustments to your veneers and attach them to your teeth. Then, you can go on your way and show off your gorgeous new grin!