Dental Implants – Plano, TX
A Beautiful Smile That Will Last for Decades!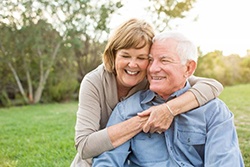 Whether you've lost a tooth due to an accident or simply because you're getting to a certain age, tooth loss happens. With tooth loss comes a wide variety of problems, but that doesn't mean you have to settle for an incomplete smile. Unlike most replacement options, dental implants work to restore the entire tooth structure, not simply the crown portion. They truly have the power to restore the functions of your natural teeth and do so for life!
Contact Dr. Shannon Stokes today to get started!
Benefits of Dental Implants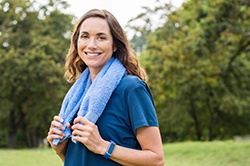 Dental implants are designed to replace the roots of teeth as well as the crown, creating the most natural replacement tooth possible. By adhering to the natural bone inside the jaw after placement, implants can last much longer than a bridge or denture, which have to deal with the ever-changing shape of the face and gums over time. Implants also stimulate your natural bone and allow blood flow to resume, preventing the jaw from losing its most optimal biting force and your face from prematurely sagging and changing shape. If you care about eating all your favorite foods while still maintaining your current appearance, dental implants offer the best of both worlds!
When it comes to long-term solutions, dental implants stand above the competition. With a 95-98 percent success rate over a 10-year period, you can feel just as confident biting into tough foods as you do when smiling with friends and family!
Indications for Dental Implants
Dental implants wouldn't be as popular as they are if they weren't incredibly versatile as well. They're capable of replacing single, multiple and even an entire arch of teeth easily and seamlessly!
Missing Single Tooth
Single teeth are replaced using one implant and one implant-retained porcelain crown. Once placed, the area takes anywhere from three to six months to heal depending on the location. An abutment is used to keep the restoration and implant attached to each other.
Missing Multiple Teeth
Those who are missing multiple consecutive teeth can use a traditional bridge and dental implants together to replace three or four teeth at a time! However, only two implants on either side of the restoration are needed to bridge the gap in your smile. As a bonus, implant-retained bridges do not require the buffing down of natural teeth in order to place like a traditional bridge would.
Missing All Teeth
If your denture is shifting constantly throughout the day, fitting your current or a brand-new denture with implants can make a world of difference. Not only can you reap the restorative benefits dental implants have to offer, but you can do so while only utilizing four to six implants at a time. This allows you to replace your entire arch while still making a huge improvement to your dental device's stability and your smile's appearance.
Understanding the Cost of Dental Implants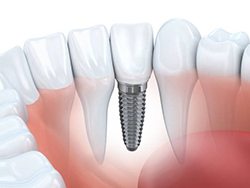 The factors that influence the cost of dental implants can vary from patient to patient. Therefore, it's incredibly important to speak with your doctor beforehand in order to understand your needs prior to surgery. The most important factors that influence the total price include:
The number of implants being placed
The number/type of restorations and abutments used
Preparatory treatments to ensure successful implantation (i.e. bone grafts to increase bone volume)
While the cost may be higher upfront compared to other replacement methods, dental implants are intended to last for decades and even a lifetime after placement. In fact, they're often the most cost-effective option because of their durability and longevity, so keep this in mind when determining the cost with your dentist.
Ready to make a dramatic transformation to your smile and your lifestyle with Dr. Stokes? Schedule an appointment by contacting us today to learn more about the process of receiving dental implants!
Dental Implant FAQs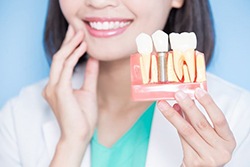 If you're ready to get a beautiful smile that will last for decades, call us today to schedule your consultation for dental implants in Plano. We'll be happy to give you all the information you need about restoring your complete, confident smile with this unique treatment. In the meantime, we invite you to look over the following dental implant FAQs to learn more about them!
Am I A Good Candidate for Dental Implants?
Whether you're missing one, several, or all your teeth, dental implants are a good choice for nearly anyone facing tooth loss. To be considered a good candidate for dental implants, you'll generally need to have three things:
Good overall health: Placing dental implants is a surgical procedure, so you need to be well enough to undergo minor surgery.
Great oral health: Issues like tooth decay and gum disease can threaten the success of your dental implant, so they'll need to be addressed first.
Adequate jawbone density: Your jawbone needs to be strong enough to support dental implants.
Even if you don't think you're a good candidate for dental implants, come see Dr. Stokes for a consultation anyway! He can help you create a plan to get you ready for your brand-new smile.
Is Dental Implant Surgery Painful?
At first, hearing that placing dental implants requires surgery may sound daunting, but rest assured that you have nothing to worry about. State-of-the-art dental technology will ensure that your treatment is as precise as possible, and modern numbing medications will keep you completely comfortable all throughout your procedure.
After your dental implants have been placed, it's natural to experience some slight bleeding, swelling, and discomfort for a few days. You'll be prescribed pain medication that will help manage your symptoms as your mouth heals. Most patients are able to go about their normal schedules the following day, and the majority of your symptoms should fade within a few weeks.
Why Does Getting Dental Implants Take So Long?
Unlike other tooth replacement options like dentures and dental bridges, getting dental implants is a multistep process that takes place over the course of several months. For patients who are anxious about replacing their missing teeth, this can be somewhat off putting. The reason dental implants require so much more time than other options is because of a process called osseointegration.
Osseointegration is how dental implants replace missing teeth both above and below the gumline. During this step, the small titanium implant posts that were placed in the jawbone fuse with the surrounding bone tissue. This happens very gradually, and it can take anywhere from four to six months for your mouth to heal and be ready for the next step. However, dental implants are well worth the wait! They offer unmatched stability, comfort, functionality, and longevity thanks to this unique step.
How Are Dental Implants Cared for?
Dental implants are designed to look, feel, and function just like natural teeth—and they can be cared for just as easily as well! They don't require any special cleaning solutions or changes to your daily dental routine. Instead, your dental implant can be cared for right alongside the rest of your smile! Great oral hygiene habits like regular brushing, flossing, and rinsing with mouthwash can all help keep your new smile strong and sparkling. In fact, with the proper care, you can easily expect your new teeth to last a lifetime!
Dental implants can improve your smile, confidence, and quality of life. To see if this revolutionary tooth replacement option is right for you, don't hesitate to give us a call today!