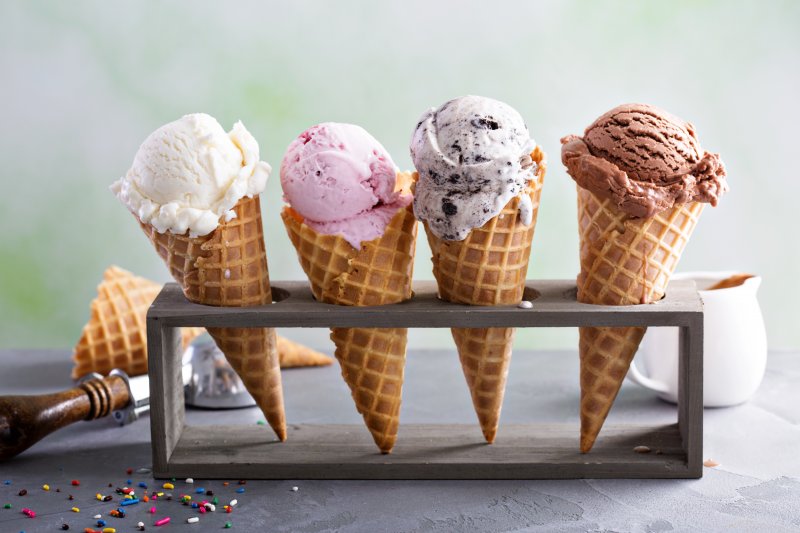 What better way to cool off this summer than to enjoy your favorite frozen treat? Although delicious and refreshing, ice cream can actually negatively impact your oral health. So, before you make a trip to the store or queue up for long ice cream shop lines, take your smile into consideration. Here is the inside scoop on why ice cream is bad for your teeth and how you can minimize the effect it has on your smile.
Why Ice Cream is Bad for Your Teeth
Since ice cream is made of dairy, it has calcium in it, along with some other helpful nutrients. Calcium helps strengthen your teeth and bones. However, ice cream is also full of sugar, and that can harm your oral health by causing dental problems like tooth decay, cavities, and gum disease. Foods that contain high amounts of sugar create acids that eat away at your enamel. If your teeth are sensitive to temperature, eating your favorite ice cream can easily become an uncomfortable experience.
How You Can Still Enjoy Your Sweet Treat
Just because ice cream isn't good for your teeth doesn't mean you can't enjoy it from time to time. However, if you indulge in something that isn't the best for your body, you should take extra steps to make sure you're reducing harm in any way you can. Here are some tips on how you can safely have ice cream:
Everything in moderation. Limiting how often you have your favorite frozen treat is the key to being able to enjoy ice cream for years to come.
Switch it out. There are plenty of healthier alternatives you can reach for when you're at the store or ice cream shop. Some examples are low-sugar or sugar-free ice cream or gelato, frozen yogurt, or sorbet.
Avoid sugary toppings. If you have a sweet tooth that just can't quit, stay away from toppings that add to your sugar intake. This means less chocolate, gummies, caramel, marshmallows, and sprinkles! If you like having something extra with your ice cream, try substituting your favorite toppings with fresh fruit or shredded coconut.
Rinse your mouth. After eating something high in sugar, rinse your mouth out with water.
Keep up with good oral hygiene. Make sure if you're eating sugar fairly often or in large amounts that you are maintaining your proper oral hygiene routine. 20 to 30 minutes after you eat ice cream, brush your teeth to clean off residual sugars.
About the Author
Dr. Shannon Stokes is a native Texan with over 18 years of practicing family, restorative, and cosmetic dentistry. He is dedicated to enhancing each patient's oral health and reaching their individual smile goals. If you are interested in learn more about how you can enjoy your favorite foods without the expense of your teeth or you'd like to schedule an appointment, contact Dr. Stokes through his website or by phone at (972) 596-0200.