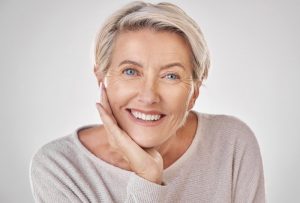 Have you always wanted straighter teeth, but didn't want to wear the clunky metal wires and brackets of traditional braces? The good news is that modern orthodontics have now made that possible! Invisalign is a discreet and reliable way to get the aligned smile you've always wanted. It uses a series of clear, removable aligners to gently move your teeth into the desired place. It's the perfect solution to correct your pearly whites while still maintaining a professional appearance and without causing a major overhaul to your life. Here are four great reasons why Invisalign may be right for you!
#1: There Is No Upper Age Limit
Contrary to what many people believe, your teeth are just as malleable as they were in your younger years. This makes it possible to shift your teeth into a more aligned position at any age. No matter what stage in life you are in, there is plenty of time to begin the process of improving your smile with Invisalign. If you're unhappy with your bite alignment or crooked teeth, you can schedule a consultation with your dentist to begin making positive changes to your grin.
#2: It Improves Your Oral Health
Other than improving the aesthetic of your smile, orthodontic treatment can also be beneficial for your oral health. Having overcrowded teeth can make it more difficult for you to keep them clean, increasing the possibility of the buildup of debris, plaque, and bacteria. If left untreated, this increases your risk of tooth decay and gum disease. By aligning your smile now, you can improve your ability to maintain good dental health for years to come.
#3: You'll Get a Boost of Confidence
Everyone wants to feel great themselves, regardless of their age. Having a sense of confidence can help you in your social interactions, as well as professional opportunities. This is because a beautiful smile is typically perceived as being more competent, outgoing, and attractive. Since your pearly whites are one the first things people notice about you, it's a good idea to boost their appearance for a great first impression!
#4: It Is an Affordable Treatment
For many people, finances were a factor when it came to straightening their smile early on. Oftentimes, this meant they had to say "no" to their dream smile. However, now that you're an adult, you may be more financially stable enough to undergo Invisalign. The overall cost may depend on your specific dental situation. To get a precise estimate of what the cost of treatment will be for your personal needs, it's best to schedule a consultation with your dentist. They will give you a thorough examination and determine the best way to achieve your desired results.
No matter what stage of life you are in, Invisalign can be a worthwhile investment in a new smile. With its various benefits, it can not only be the key to improved pearly whites but your overall well-being, too!
About the Author
Dr. Shannon Stokes is eager to help you get the straighter, more beautiful smile you desire, no matter what your age! He earned his Doctor of Dental Surgery from Baylor College of Dentistry and is experienced in a range of areas, including restorative and cosmetic dentistry. With the use of personalized plans and advanced dental technology, he can help you achieve your dental goals through various adult orthodontics. To schedule an appointment, contact him through his website or call (972) 596-0200.