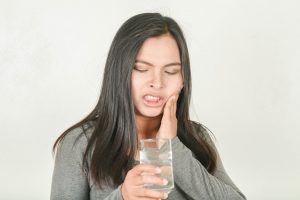 Does drinking a glass of ice water make your lips? Maybe a hot cup of coffee causes a sudden twinge of pain? You may be dealing with sensitive teeth. It's normal to have some tooth sensitivity after certain dental treatments, but if the problem is persistent, there may be an underlying issue, like a cavity, gum disease, or weakened enamel. No matter the reason, you don't have to avoid hot and cold foods or drinks. Desensitizing toothpaste can provide you with the relief you need until seeing your dentist.
What Causes Sensitive Teeth?
Your teeth consist of 3 layers: enamel, dentin, and pulp. Your enamel is the hard outer layer you see in the mirror. It's the hardest substance in your body that protects the softer layers. Dentin is just below the enamel, which contains tiny tubes connected to the nerve center of the tooth, called the pulp. When the enamel is compromised, your dentin won't have enough protection from outside factors, which can cause discomfort to heat, cold, sweets, or inhaling through your mouth.
Various factors can cause ongoing tooth sensitivity, which can include:
Enamel loss
Gum recession
Tooth decay
Chips or fractures
Worn dentition
Depending on the cause of the discomfort, you may benefit from sensitivity toothpaste. Although there are countless products on the market, not all will be right for you.
Choosing a Desensitizing Toothpaste
Desensitizing toothpaste can contain various ingredients meant to target specific issues. Depending on your needs, your dentist may recommend looking for specific additives, like:
Potassium Nitrate: The active ingredient blocks pain signals from the teeth to the brain, which can benefit people with weakened enamel.
Fluoride: Fluoride strengthens enamel to enhance your tooth's defense system.
Strontium Chloride: The openings of the dentinal tubules are blocked to prevent hot or cold temperatures from reaching the pulp.
No matter the type you choose, be sure to look for the American Dental Association's Seal of Acceptance, which means it has undergone voluntary testing for safety and effectiveness. If toothpaste doesn't solve the problem, it's time to contact your dentist.
Treating Tooth Sensitivity
Desensitizing toothpaste can help, but it's best to schedule an appointment with your dentist to find the source of your discomfort. Your dentist will examine your mouth to determine what's causing your pain. Depending on the cause, they may recommend additional treatment, like a filling, gum disease therapy, or fluoride varnish.
With the right toothpaste and care from your dentist, you won't think twice before enjoying a bowl of ice cream or sipping your afternoon tea. Tooth sensitivity can become a distant memory to restore your quality of life.
About Dr. Shannon Stokes
Dr. Stokes achieved his dental degree from the Baylor College of Dentistry and has completed continuing education in advanced services, like cosmetic, restorative, and implant dentistry. He offers a wide scope of services to ensure all your needs are met from one location. If you're dealing with ongoing tooth sensitivity, contact our office today to request your consultation to stop your pain.