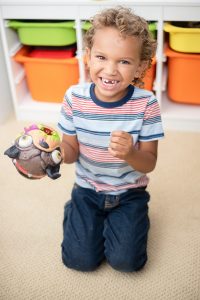 Nothing is more precious than watching your child's first tooth break through the gum tissue; however, their first visit from the Tooth Fairy is equally exciting. Between the ages of 6 to 7, most children have their first loose tooth. Until then, the baby teeth act as placeholders for their permanent set, while also allowing them to learn how to eat and speak. Losing a primary tooth too soon can have lasting consequences for their smile. Here's how to pull your child's tooth safely.
Should You Pull Out the Tooth?
Most baby teeth will fall out on their own without any help. Therefore, don't be in too much of a hurry to pull it out. Here are a few tips to navigate your child through the process:
Discourage your child from wiggling the tooth with their fingers because it can introduce harmful bacteria into the mouth. Instead, they should use their tongue to wiggle it back and forth.
Explain to your child that they shouldn't be concerned about blood because teeth that are ready to come out don't bleed much.
If your child can rotate the tooth without having any discomfort, it's time to pull it out using a twisting motion.
Keep some gauze handy to put on the socket after the tooth has been removed. This will help the blood clot fast.
Empty sockets can be tender, but a cold compress can numb the area temporarily. You can also give them an age-appropriate dose of an OTC pain reliever.
Have your child rinse their mouth with salt water to clean the socket while reducing pain and inflammation.
If the tooth doesn't fall after about 2 months, the root may not be fully dissolved. The permanent tooth can begin to grow behind or in front of it, known as "shark teeth." This can lead to many complications, like orthodontic issues, an increased risk of dental injuries, or tooth decay, but don't take measures into your own hands.
Although the "string and doorknob" method and other DIY tooth removals have been used for decades, your pediatric dentist will advise against them because they can injure the gums. Instead, contact their dentist for a consultation if:
Your child is having pain when the tooth is touched or pulled.
The tooth is still firmly in the socket.
The tooth hasn't gotten any looser.
Their dentist will examine their mouth and may take a digital X-ray to determine if any dental intervention is needed, like an extraction. Don't worry if their tooth needs to be removed. Their dentist will ensure they are comfortable every step of the way, so losing their tooth is still an exciting experience.
About Dr. Shannon Stokes
Dr. Stokes earned his dental degree at the Baylor College of Dentistry and continued his education in cosmetic, restorative, and children's dentistry. He offers a wide range of services for patients of all ages. If you have concerns about your child's loose tooth, contact our office today to request your consultation.