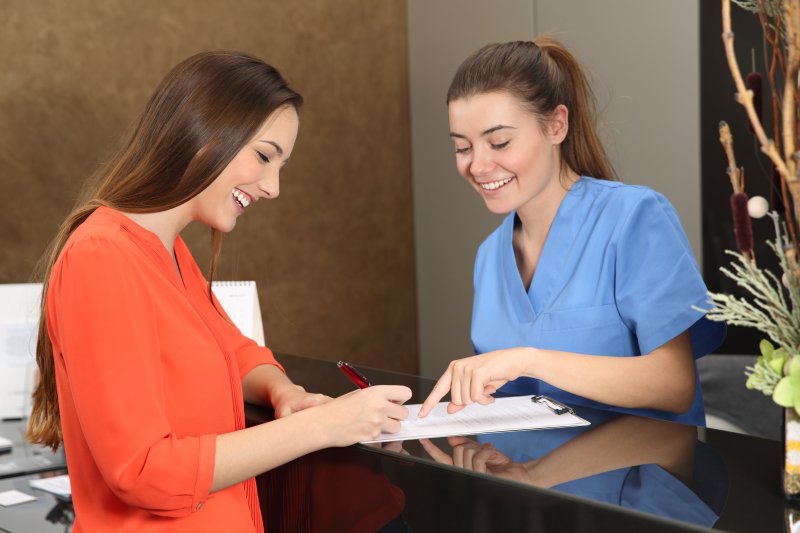 So, you've taken your first step to a better smile and scheduled a consultation with your cosmetic dentist. Do you know what to ask about during the appointment? You won't know the best way to improve your smile otherwise, and a poor decision on treatment can have lasting consequences.
If you find yourself at a loss over what to bring up, don't panic: Here's a summary of three essential questions to ask during your cosmetic dental consultation and why you should do so.
"What are Your Qualifications & Specialties?"
Even if you know the smile flaws you want to correct, it won't do you any good if the dentist can't fix them. That being the case, you'll want to ask your dentist about their qualifications, specialties and such. A dental practitioner specializing in whitening treatments might not have the necessary training to fix cracked, chipped teeth. Similarly, a patient looking for dental implants won't be able to get them from someone who only knows how to place dental crowns.
Knowing your doctor's credentials also allows you to estimate the quality they would bring to your treatment. It only makes sense that a dentist versed in the latest practices and trends would deliver better results than someone years out of date.
"What Should I Expect from Your Different Treatment Options?"
Assuming you're satisfied with your dentist's expertise, you'll also want to know what services they offer. Making an informed decision on the next steps would include learning the pros and cons of similar procedures, the success rates and lifespans of varying treatments, etc. As part of this process, you might have the dentist show you before-and-after photos to learn more too.
Besides the ins and outs of the treatments themselves, it's also good to consider the potential investment of time and money. You might need to favor one treatment over another simply due to the varying times they take to implement. Furthermore, you'll inevitably rule out those options that aren't the best fit for your budget.
"What Do You Recommend?"
You'll always benefit from asking your specialist for their treatment recommendations.
As they're the resident expert in dental matters, you can trust the dentist to offer valuable advice. Following their oral examination of your mouth, they'll understand your smile's problems and issues. More than that, they'll know what would benefit your teeth, gums and smile most.
Plus, as they find out more about you, they can find ways to make the procedure more convenient or comfortable. Whatever your background, a dentist will tell you which methods would work best with your job schedule or financial situation.
There are all sorts of things you might want to ask your cosmetic dentist during the initial consultation. However, by getting their answers to these three questions, you'll have what you need to choose a bright future for your smile.
About the Author
Dr. Shannon Stokes is a cosmetic dentist practicing in Plano, TX, having earned his DDS from the Baylor College of Dentistry. He prides himself on having taken post-graduate courses in cosmetic dentistry, restorative dentistry, dental implants, and more. Dr. Stokes also continues to educate himself on the latest changes in dental technology. He currently practices at his self-titled clinic and can be reached at his website or by phone at (972)-596-0200.