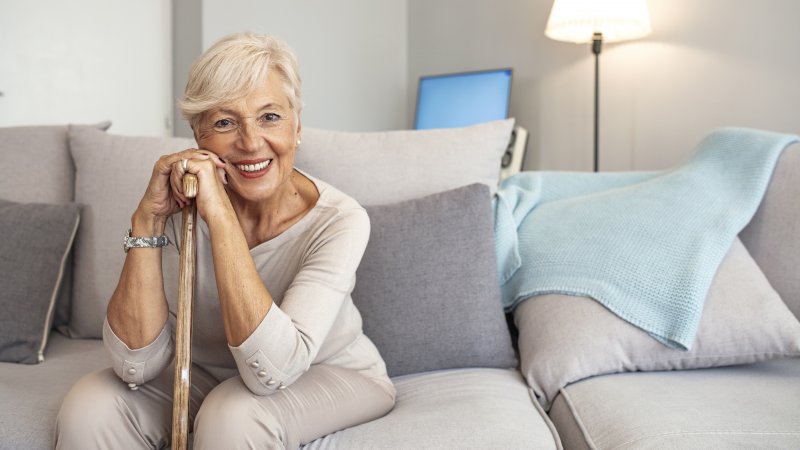 You've decided to go with implant dentures for your new set of teeth and you might be wondering what you'll experience after you get them. They'll definitely restore your appearance and natural dental functions, but you want to know what's involved in the adjustment time. Your local dentist can explain what to expect when adjusting to your new implant dentures in Plano.
Initial Adjustment Period for Implant Dentures
After surgery, it usually takes your jawbone roughly four to six months to fully heal around the implant dentures. This also depends on each patient's particular situation as well as the implant placement treatment used, since some patients can receive dentures right away with certain methods. You may feel some discomfort in the mouth for some time after your operation, but it should fade in a couple weeks. If any soreness persists, you should call your dentist right away.
Eating with Implant Dentures
After several weeks of adjusting to your newly placed implant dentures, you should be able to eat meals as though you had your natural teeth back! However, when your implant dentures are first placed, you should start with foods that are easier to chew until you get the hang of munching with your new dentures. Some meal options to consider include:
Yogurt
Applesauce
Eggs
Mashed potatoes
Smoothies
Once you feel more confident with how your implant-supported prosthetics work, you could move onto eating your favorite foods like before. Your dentist can also help recommend a timeline for when you can add harder, crunchier foods into your diet.
Adjusting to Speech with Implant Dentures
Unlike traditional dentures, which can take some practice speaking clearly with, implant dentures allow you to speak as easily as ever. Since they are firmly rooted in place with dental implants, there is simply no chance they can slip or move around in your mouth as you speak. Most people need very little time to adjust when talking with their new implant dentures.
Overall, having implant dentures can significantly improve the way you eat, talk, and feel about your smile. Your self-esteem will soar once you know the adjustment period only takes a few months for a newly restored set of teeth!
About the Author
Dr. Shannon Stokes earned his D.D.S. from Baylor College of Dentistry, which is well-known as one of the best dental schools in the country. Using state-of-the-art dental technology, Dr. Stokes provides an array of dental treatments including dental implants, implant dentures, and All-on-4 implants. If you want to know more about what you can expect when adjusting to implant dentures, visit his website or call (972) 596-0200.