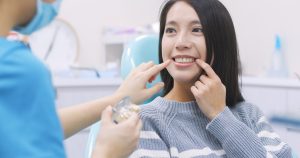 Are you embarrassed by the way your teeth look? You're not alone. Research shows at least one-third of adults are unhappy with the appearance of their smiles. You have more options than ever to get the picture-perfect smile you deserve; however, one treatment stands about above all others. Over 43% of people choose dental bonding instead of other popular treatments, like veneers, whitening, and crowns. The noninvasive procedure provides drastic results, but is it right for you? Here's what you need to know to achieve the smile of your dreams.
What is Dental Bonding?
Dental bonding goes by many names, including cosmetic or direct bonding. No matter what you call it, it offers many benefits. A composite resin material is applied to a tooth to fix a variety of blemishes without needing to permanently alter your teeth, like that of veneers. Besides correcting aesthetic concerns, it can also fix certain oral health issues, like tooth decay. The biocompatible material will match the color of your teeth to blend in with your enamel to provide natural-looking results. After just 1 appointment, you can have a confident smile that you'll be proud to show off.
Is Dental Bonding Right for Me?
If you have one or more minor imperfections you'd like to improve, you might be a candidate for dental bonding. You'll require a consultation with your cosmetic dentist to ensure it is the right option for you. They'll examine your teeth and learn more about your goals to create a comprehensive treatment plan to enhance one or more teeth. Generally, cosmetic bonding is recommended for patients who have:
Tooth decay
Exposed tooth roots
Tooth discoloration or stains
Gaps between teeth
Chipped or cracked teeth
Shorter than average teeth
What are the Benefits of Dental Bonding?
Many patients prefer dental bonding because it offers a variety of advantages that aren't possible using other treatments, including:
Minimally Invasive: You don't need to alter your teeth or worry about a painful procedure.
Natural-Looking Results: The resin is shaded to the exact color you need, so no one will notice it isn't part of your natural tooth.
Durable: Dental bonding can last for a decade or longer with the right care, like maintaining your oral hygiene.
Affordable: When compared to other elective procedures, dental bonding is a cost-effective solution. In some cases, it can be covered under your dental insurance.
Versatile: Cosmetic bonding can resolve several flaws without needing multiple procedures or a lengthy recovery.
Revamp Your Smile Today
You don't need to hide your flawed teeth any longer. Your cosmetic dentist can revamp your smile and self-esteem using a proven solution.
About Dr. Shannon Stokes
Dr. Stokes has nearly 2 decades of experience in family and cosmetic dentistry. He earned his dental degree from the Baylor College of Dentistry before continuing his training in advanced treatments, like dental implants and orthodontics. He is well-versed in both cosmetic and restorative dentistry. If you're interested in a beautiful smile, contact our office today to schedule your consultation.