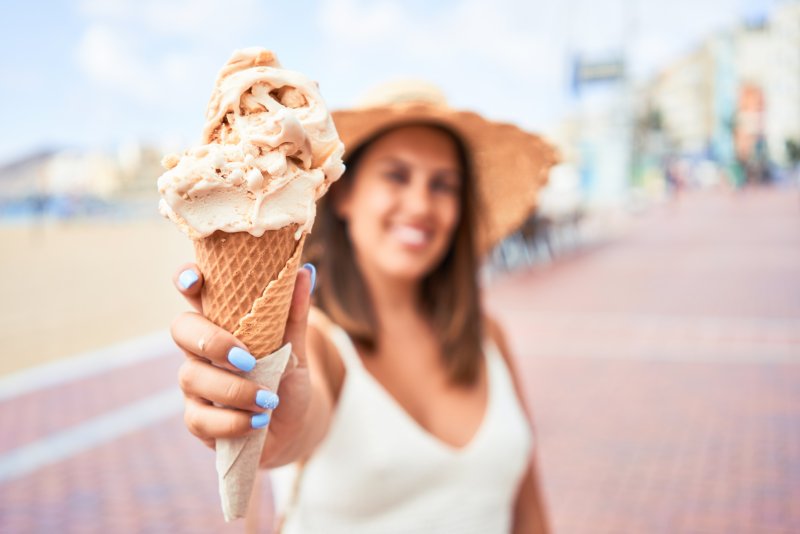 Summertime is synonymous with delicious frozen treats like popsicles and ice cream. While they're certainly a tasty way to cool down in hot weather, they can negatively affect your smile. Before you hop in line at your local ice cream shop, take a second to consider how the cold treat can damage your oral health. Read along to learn how ice cream is bad for your teeth and tips for minimizing harm this summer.
How Does Ice Cream Affect Oral Health?
On a hot summer day, there's nothing more tempting than indulging in a scoop of your favorite ice cream. Unfortunately, this cold dessert is jam-packed with sugar – and that's bad news for your smile. After eating ice cream, the bacteria in your mouth like to feed on residual sugars and produce waste in the form of acids. That harmful acid eats away at your enamel, increasing your risk of tooth decay, cavities, and even gum disease. It can also make your teeth more sensitive, which means eating foods at extreme temperatures might be an uncomfortable experience.
Should It Be Avoided Completely?
The good news is that you don't have to stay away from ice cream completely! In fact, it can be a great source of calcium, which is an essential nutrient that strengthens your teeth and bones. That being said, you shouldn't eat ice cream for every meal or use it as your only source of calcium. It's still full of sugar, so you should continue to consume this sweet treat in moderation.
Tips for Reducing Its Negative Effects
Here are a few ways you can safely indulge this treat with minimal negative effects:
Enjoy it in moderation. Like most things, ice cream is okay to consume in moderation. Since it's full of sugar, it's important to limit your intake. Try eating it with a meal to minimize damage.
Opt for healthier alternatives. Do you have a persistent sweet tooth? Reach for healthy alternatives instead! Low-sugar gelato, frozen yogurt, or sorbet are excellent options to satisfy your craving.
Limit toppings. Stay away from toppings that add even more sugar to your dessert, such as caramel, chocolate syrup, and gummy bears. Instead, choose topping with little to no sugar, like chopped nuts, fresh fruit, or shredded coconut!
Maintain a good oral hygiene routine. Proper dental care is the key to maintaining a healthy smile. After eating ice cream (or any other sweet treat), wait at least 30 minutes before brushing your teeth to remove any residual sugars. What if you don't have a toothbrush on hand? No worries – simply rinse your mouth with water or mouthwash to wash away leftover food particles.
Now that you've got the inside scoop on how ice cream affects your teeth, you can make better dietary choices this summer. Ultimately, there's nothing sweeter than being able to enjoy a beautiful, healthy smile for life!
About the Author
Dr. Shannon Stokes has over 18 years of experience practicing family and cosmetic dentistry. He has a passion for building meaningful, long-lasting relationships with every patient that walks through his door. If you have any questions about how ice cream affects your smile, Dr. Stokes is more than happy to sit down and discuss that with you. Visit our website or call (972) 521-3791 to schedule an appointment.