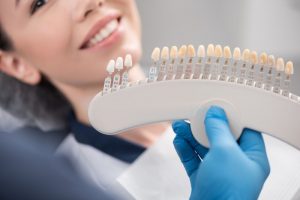 Through decades of research into advanced techniques, state-of-the-art equipment and treatment methods, dentistry has evolved tremendously. What does this mean? For starters, you now have more options for restoring your functionality and upgrading your smile. Two procedures that are available are porcelain veneers in Plano and dental crowns. While both are highly effective, which one is best suited to meet your needs? Continue reading to get some details that will help you decide.
Porcelain Veneers Explained
Every step of the veneers process is highly customized. The thin shells, which are crafted from high-quality ceramics, are primarily intended to fit over the front-facing teeth. Generally, veneers are used to mask such smile flaws as gaps, slight misalignment, crowding and stains. The usual timeframe for completing the process is two to three visits.
For dental insurance purposes, veneers are considered cosmetic dentistry. Thus, you should plan on paying out-of-pocket for treatment.
Understanding Dental Crowns
The crown of the tooth is the portion that is visible above the gum line. Because of its exposure to the dynamic environment inside your mouth, it can become severely damaged, discolored or it can dislodge. A replacement crown can be added to restore the lost functionality and aesthetics.
The procedure, which is typically classified as major dental care, usually takes two visits to complete. In most cases, dental insurance will cover a portion of the cost.
What to Consider When Making a Choice
When choosing between veneers and crowns, consider the following:
The location – While veneers can technically be placed on the molars, dentists generally advice against doing so. That's because the fixtures aren't designed to endure the immense pressure that is placed on the teeth when chewing.
The main goal – If your primary focus is to make a cosmetic improvement, you may want to choose veneers. However, crowns are better suited for more restorative needs, as they offer a three-dimensional design, as opposed to the two-dimensionality of veneers.
It's Worth Asking a Dentist
When you visit a dentist in Plano, you'll have a chance to explain what you're looking to accomplish. Additionally, you'll be carefully examined so the dentist can make a full assessment of the condition of your smile. Therefore, he or she can offer a professional opinion about which route is best suited for achieving your goals. By taking this initial step, you can put an end to any confusion and move forward with a clear and targeted plan for rejuvenating your smile!
About the Author
Dr. Shannon Stokes is a graduate of Baylor College of Dentistry. Throughout a career that has spanned over 20 years, he has worked tirelessly to expand his knowledge, completing several hours of advanced postgraduate training in restorative and cosmetic dental procedures. Dr. Stokes places veneers and crowns at his private practice, and he can be reached for more information or to schedule a visit through his website.