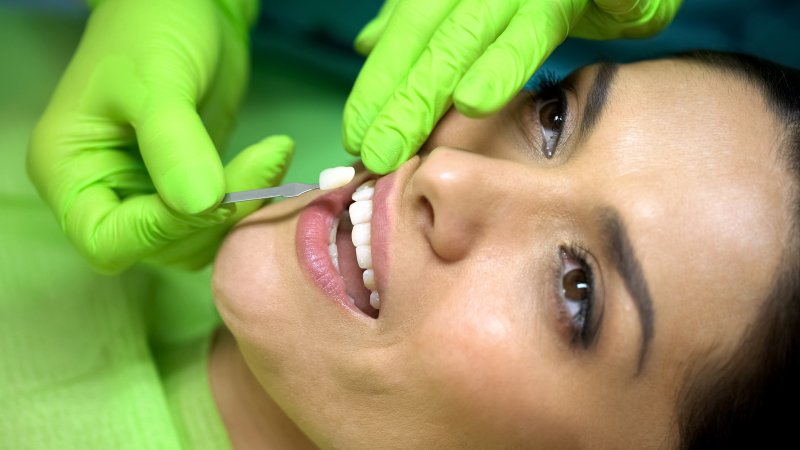 Are you looking to correct cosmetic flaws in your smile? One of the great things about today's world is that you don't need to settle for teeth that you aren't proud to show off. There are all sorts of different cosmetic dental treatments out there to help patients to feel more confident. One of the most common is porcelain veneers. They correct all sorts of aesthetic issues, including teeth that are misshapen, gapped, chipped, discolored, and undersized. A small amount of protective enamel needs to be removed for the best results, but how much? Read on to learn more about how the procedure to get porcelain veneers in Plano works.
How Does the Procedure Work?
Fortunately, the process of getting porcelain veneers is minimally invasive. Your dentist starts by removing a small amount of your protective enamel from the front surface of your teeth. Next, a model is made of your mouth which is sent off to a dental lab. This is where your permanent veneers will be made. During your next appointment, minor adjustments will be made, and the veneers will be attached to your teeth using a special cement.
Why Does Enamel Need to Be Removed?
There are two main reasons why a small amount of enamel needs to be removed from your teeth:
A veneer needs to bond to the tooth. By removing a small piece of enamel, the veneer can adhere to the tooth much more easily.
If the veneer were placed without removing any enamel, it would make your teeth appear bulky. This isn't the look that most people are going for. Ultimately, by removing some enamel, your smile will appear more natural.
How Much Enamel Needs to Be Removed?
Your dentist needs to remove some enamel for the procedure to take place, but not enough where it damages the overall structure of the tooth. Sometimes, teeth only require minimal shaving, but usually, about half a millimeter is taken. This way, your dentist can conserve as much natural tooth structure as possible to keep your smile in good health. Because enamel doesn't grow back, this procedure is considered permanent and cannot be reversed.
Veneers can improve the appearance of your smile by covering up aesthetics flaws. Ultimately, you will be able to show off teeth that make you feel confident. It may be a commitment, but feeling great about your smile is priceless!
About the Author
Dr. Shannon Stokes is an experienced dentist who has been practicing for more than 18 years. He earned his DDS from Baylor College of Dentistry and has completed a variety of post-graduate courses in different areas of the field, including cosmetic dentistry. To learn more about porcelain veneers or to schedule an appointment at his office in Plano, visit his website or call (972) 596-0200.