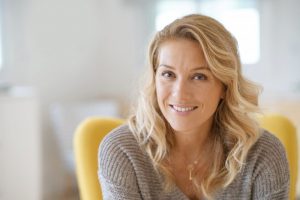 When you look at your smile in the mirror, do you see stains, yellowing, or discoloration? These issues really hurt your appearance AND confidence, but they can thankfully be corrected by your dentist! Porcelain veneers and teeth whitening are popular options for fixing smiles that have lost their dazzle. But how do you know which service is right for you? Read on to get your answer.
Why Do Teeth Become Discolored in the First Place?
White teeth are an easy sign of a healthy smile, however discoloration is unfortunately unavoidable. As time goes on, natural wear and tear causes your teeth to lose the once bright, white color they had. Additionally, your food and lifestyle choices like routine smoking, or coffee/wine drinking can lead to stains and yellowing. There are two different types of discoloration: intrinsic and extrinsic. Intrinsic discoloration occurs from natural wear and tear, leading to darker color beneath the outer layer of your enamel. Extrinsic discoloration happens when there are surface stains caused by foods, drinks, and products you consume.
The Benefits of Professional Teeth Whitening
You may have seen a variety of whitening options at your local grocery or drugstore, however these simply don't compare to professional treatment. By seeing your dentist, you can enjoy dramatic whitening, leaving their office with a smile that is up to 8 shades brighter in just one appointment. The best part is that it's comfortable, safe, and it can last for up to 6 months with proper care.
Transformative Porcelain Veneers
Sometimes, teeth whitening isn't enough to achieve the smile you've always wanted, and that's where porcelain veneers can help. These thin shells of dental porcelain are designed to cover the front surfaces of your teeth, concealing a variety of imperfections like discolored, crooked, misshapen, or chipped teeth. As an added bonus, dental porcelain is relatively stain-resistant, which makes it incredibly difficult to discolor your newly improved smile.
Which is the Best Option for You?
No two smiles are the same, which is why an initial consultation with your dentist can be helpful when deciding which treatment is best. However, patients with intrinsic discoloration (grey or darker color beneath the surface of their enamel) will usually need porcelain veneers because the teeth whitening won't be effective. For those with surface stains who want a less invasive, convenient treatment, teeth whitening is the perfect service – it all depends on your specific needs and goals!
Are you ready to upgrade your smile and achieve the teeth of your dreams? Thanks to options like whitening and porcelain veneers, it's easier to do so than ever before!
Meet the Dentist
Dr. Shannon Stokes is a highly trained dentist who combines art and science to give his patients simply beautiful smiles. By getting to know you, he can provide personalized treatments for the best results. If you have any questions, he can be reached through his website or by phone at (972) 596-0200.