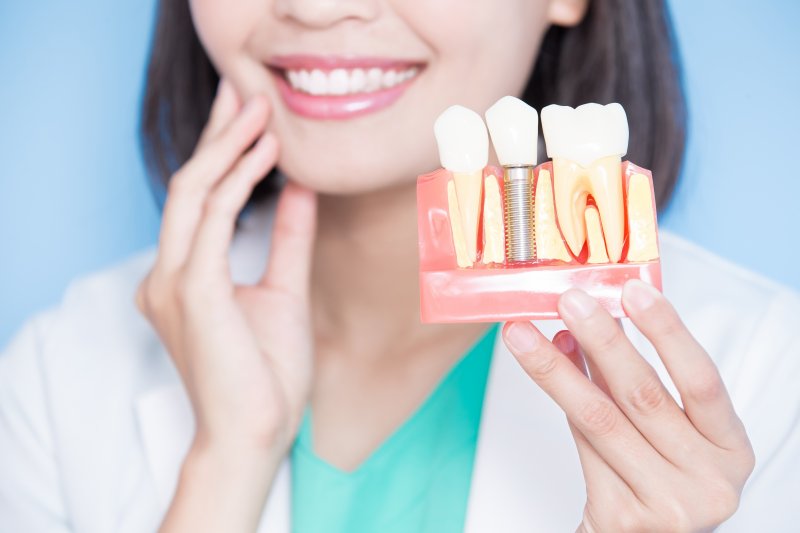 Now that the holiday season is rolling around, it is a wonderful time to reflect on all the blessings you have in your life. If you have suffered from tooth loss in the past and chosen dental implants in Plano as a tooth replacement option, this is just one of the many things your have to be thankful for. Having a beautiful, hard-working smile is often taken for granted. Continue reading to learn about the many reasons why you should be grateful for your dental implants.
Prevents Bone Loss
When you're missing teeth, you will eventually be dealing with bone loss as time goes on. This is because when you are missing the natural root of your missing teeth, your jawbone isn't getting the stimulation it needs from regular chewing and the bone will begin to be reabsorbed. When the bone shrinks, you are likely to end up looking much older than you actually are. Currently, dental implants are the only tooth replacement option out there that maintain the integrity of the jawbone and prevent bone loss by replacing the missing root of the tooth.
Fully Functional
Dental implants are placed directly into the jawbone by your dentist. The titanium fuses to the bone in a process called osseointegration. This allows for greater stability and restores up to 90% of your natural healing power once the healing process is complete. Other options, like dentures, only replace up to 30% of your natural bite force.
Easy Maintenance
You won't need to stock up on all sorts of cleaning tablets, adhesives, or special flossers in order to maintain your dental implants. All you need to do is take care of them how you would take care of your natural teeth. Regular brushing, flossing, and rinsing should do the trick. Don't forget about visiting your dentist for cleanings and checkups every six months!
Long-Lasting
Dentures and bridges need to be repaired and replace from time to time. On the other hand, dental implants are a permanent tooth replacement option. This means that they can last upwards of 25 years and even for the rest of your life if you are caring for them properly. With proper maintenance and regular dental visits, you may never have to worry about your missing teeth ever again!
Natural-Looking
Dental implants look just like your natural teeth. No one will even be able to tell the difference! After thorough planning, implants are placed in just the right spot needed to fuse to the jawbone properly. Custom crowns are created to be the exact size, shape, and color necessary to blend in with the rest of your smile.
When thinking of all the things you're grateful for during the holidays, don't forget about your smile! If you are looking for a way to replace your missing teeth, ask your dentist if you would be a good candidate for dental implants. Your smile is a priceless gift!
About the Author
Dr. Shannon Stokes is an experienced dentist who has been practicing for over 18 years. He earned his DDS from Baylor College of Dentistry and has completed a variety of post-graduate courses in different topics, including dental implants. For more information on dental implants or to schedule a consultation, visit his website or call (972) 596-0200.