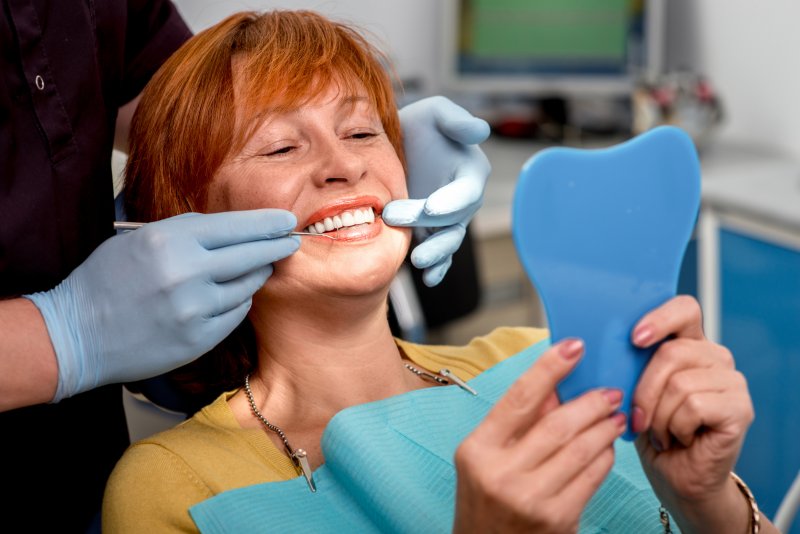 If you're missing teeth, you certainly aren't alone. Approximately 178 million Americans are missing at least one tooth while 40 million are missing all of their teeth. This can be frustrating the deal with and many people feel embarrassed when smiling, talking, and eating. Fortunately, with modern dental technology, there are many different options out there for replacing missing teeth. Dental implants are preferred by dentists and patients alike, but how long do they last? Continue reading to learn more about the lifespan of dental implants in Plano and how you can keep them for as long as possible.
How Long Do Dental Implants Last?
Dental implants do not necessarily last forever, but they have a much longer lifespan than dentures, which last anywhere from 7 to 10 years, and dental bridges, which last from 5 to 15 years. Dental implants can have a lifespan of over 25 years when cared for properly. However, this does depend on several different factors like the location, skills of your dentist, health of your gums, and your overall health.
How Can You Make Your Dental Implants Last Longer?
In order to make your implants last for several decades, it is important that you are taking the following steps:
Maintain a Good Oral Hygiene Routine: If you aren't brushing twice and flossing at least once every day, you cannot expect your implants to last very long. The gum tissue around your implants is even more susceptible to periodontal disease than your normal teeth, so it is extra important that you keep your gums healthy in order to prevent a dental implant failure.
Be Careful: Even though you don't have any food restrictions when you have dental implants, you still need to be extra careful when eating foods that are especially hard or sticky. Never use your teeth as tools to open up stubborn packaging or cut through thread. You could easily damage them over time.
Don't Smoke: One activity that is a huge contributing factor to the failure of dental implants is smoking. This is because nicotine buildup negatively influences the blood supply to your gums, therefore increasing your probability of having a dental implant failure.
See Your Dentist Regularly: You need to see your dentist every six months for regular cleanings and checkups. At this time, they will examine your dental implants to ensure that everything is looking well. If there is an issue, catching it early on is crucial so it can be treated before affecting the success of your implant.
With proper care and maintenance, your dental implants can last for many decades into the future and even a lifetime. Ask your dentist if you would make a good candidate for this long-term tooth replacement option.
About the Author
Dr. Shannon Stokes is a well experienced dentist who has been working in the field for over 18 years. He earned his Doctor of Dental Surgery from Baylor College of Dentistry and has completed a variety of post-graduate courses in different areas of dentistry, including dental implants. For more information on dental implants or to schedule a consultation, visit his website or call (972) 596-0200.