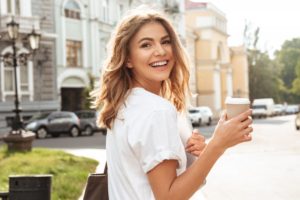 Did you know that a recent study commissioned by the American Association of Orthodontics found that over 33% of Americans are unhappy with their smile? Whether it is misaligned teeth, discoloration, or chips that have you covering your teeth every time you laugh, it can take a toll on your self-esteem and confidence. However, porcelain veneers in Plano can correct a multitude of dental issues in as little as two visits! Read on for how "instant orthodontics" can provide you with the picture-perfect smile of your dreams.
Why Are Porcelain Veneers Called "Instant Orthodontics?"
Decades prior, patients looking to brighten, straighten, and correct their smile would have to use braces, teeth-whitening appointments, and crowns/bridges. Each of these treatment options is effective, but it can also be uncomfortable and lengthy. However, patients who opt for porcelain veneers can achieve their smile goals in just two visits! Therefore, it has quickly become known as "instant orthodontics."
How Can Porcelain Veneers Fix My Smile?
Porcelain veneers are widely known for their durable makeup and natural appearance. While they aren't able to fix severe orthodontic issues, they are able to provide some patients with an all-in-one treatment option. In fact, they can:
Make all your teeth the same length.
Stabilize any cracked or chipped teeth.
Straighten misaligned or crooked teeth.
Strengthen weak or loose teeth.
Correct discoloration.
Replace missing teeth or gaps in your smile.
What Is the Treatment Process Like for Porcelain Veneers?
For patients who opt for porcelain veneers, they can walk out of their dentist's office with their dream smile in as little as two visits! Below are the five steps of the treatment process:
A thin layer of the enamel of your teeth will be removed.
Molds and impressions will be taken.
Permanent veneers will be designed with the size, shape, and color of your teeth in mind.
The porcelain veneers will be fabricated and tested before being permanently bonded.
Your new smile is ready to go!
With innovations in dental techniques and technology, long gone are the days of needing lengthy, uncomfortable treatment to achieve your dream smile. In just a few visits, you can have straight, white, symmetrical teeth that turn heads for all the right reasons!
About the Author
Dr. Shannon Stokes earned his D.D.S. in 1996 from Baylor College of Dentistry, which is considered one of the country's best dental schools. He has also completed numerous post-graduate courses in cosmetic dentistry, orthodontics for adults, and restorative dentistry. Today, Dr. Stokes uses his nearly two decades of experience to provide high-quality dental care built around the personal relationships he has with each of his patients. If you would like to use porcelain veneers to brighten, straighten, and correct your smile, then visit his website or give him a call at 972-596-0200.