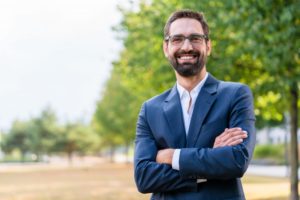 While hard skills will always be a key part of any career, soft skills can be just as valuable. In fact, studies show that a majority of employers believe that the two are equally important. Thankfully, you can begin to foster and enhance these intangible traits simply by improving the look of your pearly whites. Find out how getting a confident, friendly, and dazzling smile with porcelain veneers in Plano can help you reach your career goals.
Why Are Soft Skills Important?
Hard skills are ones that are needed to perform a specific job function like operating a computer program. On the other hand, soft skills are less tangible and associated with personality. The most commonly sought-after soft skills hiring professionals say they look for include:
Strong work ethic: 73%
Dependability: 73%
Positive attitude: 72%
Measurable, technical abilities are important aspects of completing a job, but soft skills indicate the ability to make work easier, better, and more efficient. When an employee exhibits soft skills like the ones listed above, they communicate that they can manage their time, adapt to new situations, and work well under pressure.
How Can A Smile Enhance My Career?
Since soft skills are not as easily measured as hard skills, it can be difficult to demonstrate that you have them. That's where having a beautiful smile comes into play. Showing off your pearly whites can:
Improve your self-esteem: Clean, straight, and unmarred teeth will give you the confidence to smile proudly. The more often you smile, the more often you'll trigger the release of chemicals like dopamine and serotonin in your brain, which fosters confidence and happiness.
Create a connection: Smiling is contagious. You can encourage others to feel more at-ease and content with a sincere grin. This can go a long way to reduce tension during a job interview and improve the mood of your boss while asking for a promotion.
Convey productivity and confidence: Not only does smiling make you seem more friendly, but it can also make you seem more competent and trustworthy as well, according to a study from Penn State. Numerous studies have found that a smile can dramatically change numerous aspects of how others perceive you.
Can Porcelain Veneers Improve My Smile?
Unfortunately, you may find it difficult to advance your career with a smile if you're embarrassed by the look of your teeth. If your chipped, cracked, stained, or misshapen teeth are holding your career back, porcelain veneers in Plano may be right for you. These thin shells of porcelain can cover the entire visible portion of one or more teeth and transform their size, shape, and color. This quick, minimally invasive cosmetic treatment can easily keep your smile looking its best for 15 years or more.
The power of a confident smile should never be underestimated. Show the world that you have the soft skills that are needed to succeed in life by enhancing your pearly whites!
About the Author
Dr. Shannon Stokes of Plano, TX has over 18 years of helping his patients improve their quality of life by achieving a beautiful smile. He is a graduate of the prestigious Baylor College of Dentistry and has completed numerous hours of continuing education on a variety of topics, including cosmetic dentistry. He stays current with the latest dental techniques and technology in order to offer his patients the modern treatments they deserve, like porcelain veneers. If you'd like to learn more about enhancing your smile, feel free to contact him via his website or at (972) 596-0200.