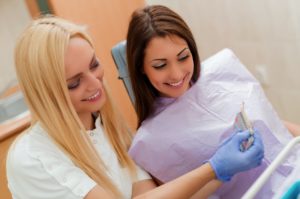 As we're coming out of quarantine and diving into summer, do you feel that your teeth are needing a makeover? There are a variety of options when it comes to improving the appearance of your smile. A favorite method for celebrities is porcelain veneers. These are thin layers of porcelain that are placed over a tooth. They can be used to fix imperfections while also providing protection. Read on to figure out if porcelain veneers in Plano are a good option for you.
Who's a Good Candidate for Porcelain Veneers?
Veneers are a great solution for someone who wants to improve the appearance of their smile. It is especially effective for people who have teeth that are:
Discolored
Chipped or broken
Worn Down
Misaligned or irregularly shaped
Containing gaps
How does the procedure work?
There are three main steps when getting veneers:
Planning: The first step involves discussing the desired outcome. The dentist will examine the teeth to make sure that veneers are the appropriate solution.
Preparation: This consists of preparing the tooth for the veneer. It may include reshaping the tooth's surface to make it even and then making a model or impression of the teeth. The impression or model will then be sent to a dental laboratory where the veneer is created.
Bonding: During this step, the veneer is positioned and bonded to the front of the tooth using a special type of cement. Once the porcelain is in the right spot, the dentist will use a light to secure them into place.
What Are the Advantages of Porcelain Veneers?
There are many advantages of dental veneers. Here are just a few:
Natural appearance: Because they are customized for each individual person, veneers look natural. No one will even know they're there.
Stain resistant: Veneers don't change color, so you don't need to worry about them becoming stained or discolored.
Color selection: Along with being custom made for each of your teeth, you are able to choose exactly what color they should be. This can make stained teeth appear whiter.
Non-invasive: Compared to other procedures like crowns, veneers don't require as much extensive shaping.
Doesn't irritate gum tissue: Gums tolerate the porcelain material well.
No special care: There is no extra maintenance required. By following your normal oral hygiene routine, you can keep your veneers in the best shape.
Long lasting: Porcelain veneers usually last between 7 and 15 years before they need to be replaced.
If you want to give yourself a perfected smile this summer, talk to your dentist about porcelain veneers. By giving your teeth an improved appearance, you'll be able to show off a smile that screams confidence!
About the Author
Dr. Shannon Stokes is a general and cosmetic dentist who currently practices in Plano, TX. He has over 18 years of experience and believes that it's important to always stay up-to-date with the latest changes in dental technology so he can provide his patients with the best care possible. He offers porcelain veneers as one of his many services. For more information or to schedule a consultation, visit his website or call (972) 596-0200.