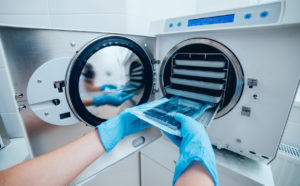 Your dentist in Plano has always made it a priority to provide a clean and safe treatment environment to patients. When COVID-19 emerged, they increased their efforts to do so, implementing new techniques and policies to provide patients with additional levels of protection. What follows are just some of the ways your dentist is trying to keep you safe when you come in for treatment.
Reduced Patient Loads
At the start of the COVID-19 crisis, many practices limited care to emergency situations. As they reopen, practices have continued to limit the number of patients they see per day. Patients are also now allowed to wait in their cars prior to the start time of their appointments. This reduces the exposure risk for everyone in the office and provides the staff with additional time to clean the area during the day.
Limiting Direct Contact
At many practices, it's normal for the dentist to end the appointment with a friendly handshake or hug. In the interest of disease prevention, this practice has been temporarily paused. Practices are also being modified to further protect the people inside them. One way traffic signs, along with plastic barriers at the reception and check out desks, help encourage proper social distancing and limit the spread of germs.
Patient Pre-Screenings
Prior to each visit, staff members are taking the time to ask patients if they've recently experienced any symptoms of COVID-19. They are also implementing temperature checks prior to appointments to prevent patients from accidentally bringing the virus inside.
Advanced Sterilization and Filtration Procedures
Prior to the outbreak, dental offices followed CDC guidelines for the sterilization of dental tools. To further protect patients, practices are adding advanced air filtration systems in treatment rooms to catch germs before they spread elsewhere.
Rigorous Disinfection
Disinfection of operatories has always been standard practice, but now dental offices are increasing their efforts by completing a thorough disinfection of any areas a patient may come in contact with immediately after each appointment. Teams are also implementing hospital grade hand sanitizing stations for use before and after treating each patient.
Personal Protective Equipment
In the past, dentists have used masks to protect themselves when providing care. Now, many are utilizing N95 masks as well as single use coats and shoe coverings to prevent germs from spreading between patients.
While you may be sheltering in place to protect yourself from COVID-19, you are still vulnerable to dental problems. If you need to come to your dentist's office for care, you will be entering an exceptionally safe and clean treatment environment.
About the Author
Dr. Shannon Stokes earned his dental degree from Baylor College of Dentistry in 1996. He has continued to educate himself on advancements in dentistry through annual continuing education courses. As a result, he has been able to implement the latest safety procedures at his practice. If you believe you need dental care and would like his assistance, you can reach him at his practice's website or at 972-596-0200.