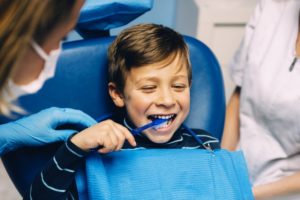 Buying new notebooks, pencils, and backpacks? Check. Meeting the teachers? Check. Making sure your little one is up to date on their immunizations? Check. Isn't there something else missing? That's right, it's time for your child to see their dentist in Plano before school starts! Read on to learn why you should add "see your dentist" to your back to school checklist.
Make Sure Your Child's Oral Health Is in Good Shape
At every checkup, your dentist will conduct a thorough examination of your little one's mouth to make sure everything is alright. If there are any problems, like cavities or gum disease, it's crucial that they get treated as soon as possible to keep these conditions from getting worse. Your dentist can come up with a personalized, comfortable treatment plan for your little one to get any oral health problems squared away as soon as possible. They can also talk to your son or daughter about what they need to do at home to keep cavities and gum disease at bay.
Get Their Teeth All Nice and Clean
In addition to an exam, your child will get their teeth cleaned by a professional hygienist. He or she will use special instruments to remove built up plaque, or tartar, that can accumulate on the teeth when you neglect to brush. When tartar is allowed to sit in the mouth for too long, it can cause serious decay and gum disease. To prevent these issues, your kid's mouth will be thoroughly cleaned. They will also receive fluoride treatment to make their teeth stronger and stop decay in its tracks.
Protect Against Cavities with Dental Sealants
Your little one may have trouble reaching to brush the teeth in the back of their mouth. Unfortunately, the grooves of the molars are where bacteria and food particles love to build up and create decay. However, your dentist has a solution – dental sealants. This thin, plastic-like coating is painted onto the nooks and crannies of your kid's molars to keep out bacteria that cause cavities. It's a completely harmless preventative procedure that can prevent your child from experiencing the pain of cavities for many years to come.
It's important to see your dentist twice a year. Since you're already making a list for school, why not add "see your dentist" to that list?
About the Author
Dr. Shannon Stokes is a family man who enjoys treating patients of all ages. He earned his Doctor of Dental Surgery from Baylor College of Dentistry in 1996, and has been providing comprehensive dental care ever since. To book your little one's back-to-school checkup, visit his website or call (972)-596-0200.