Benefits of Dental Implants – Plano, TX
Dental Implants: Appearance, Function, Durability and More!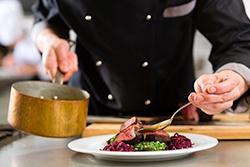 Dr. Shannon Stokes understands that a smile should last a lifetime. However, problems arise which can result in their eventual removal, making daily tasks significantly more challenging. But there are reasons to get excited about tooth replacement thanks to dental implants. By working with us to create your treatment plan, we can ensure that you'll reap both their short- and long-term benefits.
Prior to your consultation, we hope you consider these seven reasons explaining how dental implants can benefit your daily life. Call our office to learn more about the process and get started rebuilding your smile!
#1: Preserving Your Jawbone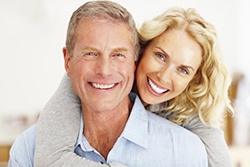 Dental implants are designed to replace the tooth root from the bottom up. As a result, they mimic your previous tooth's structure, ensuring that it feels as natural as possible. After you regain the ability to chew food, your jawbone continues to be stimulated and maintains its overall shape.
#2: Improved Appearance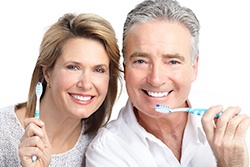 Missing teeth dramatically accelerates the effects of aging. Because dental implants work to replace your tooth, this means they perform all the same functions as your natural tooth root. This includes blood flow, which is necessary for your jawbone and overall facial shape to receive the essential nutrients it needs to remain healthy and youthful.
#3: Eat the Foods You Want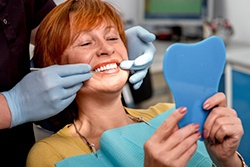 Biting into a juicy steak or crisp apple feels incredible when you haven't been able to do it for a long time. Of course, improved chewing helps you can keep a more balanced diet in general. That means your overall nutrition is improved, which can be crucial for participating in the activities you love.
#4: Long-Term Durability
While dental implants can be expensive upfront, they're often considered a lifetime investment. This is because they can easily last 25 years to a lifetime when properly maintained. Even after a 10-year period, dental implants carry success rates as high as 98 percent.
#5: Reduce Your Risk of Future Tooth Loss
When teeth are missing, alveolar bone will begin to resorb back into the body. This can put your remaining healthy teeth at higher risk of coming out later due to the breakdown of your jaw. Dental implants prevent this process from occurring.
#6: Easier Maintenance
If you've ever had a removable denture, then you understand the daily care they require. Since implants stay in place, they require no special care when compared to natural teeth. Plus, implant restorations don't decay, which means you only need to worry about maintaining the abutment portion of your prosthetic.
#7: Improved Confidence and Self-Esteem
It's a common saying that the smile is a window into the soul. If you hide your smile, you're hiding one of the most unique and personable aspects about your appearance. Alternatively, having a smile you're proud to show off is far more likely to make you feel confident and promote higher self-esteem throughout your daily life.
Want to Learn More About Dental Implants?
When it comes to tooth replacement, there are no other solutions quite as comprehensive as dental implants. We hope that these benefits encourage you to contact our dentist in Plano and schedule an implant consultation!